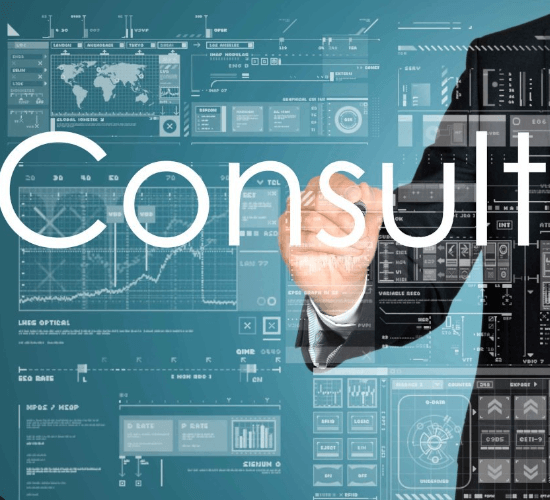 Precision Insight with Premier IT Consultancy: From Day-to-Day Tech to C-Level Advisory
In the digital age, making informed technology decisions is paramount, not just at operational levels but also at the very pinnacle of corporate governance. Our technical advisory and IT consultancy services bridge the knowledge gap, offering crystal-clear insights tailored for every stratum of your business.
C-Level & Board Advisory: Demystifying Tech for Strategic Leaders
Navigating the intricacies of today's technology landscape can be daunting, especially for non-tech leaders entrusted with steering the ship. At the boardroom table, where broad visions are narrowed down to actionable strategies, it's crucial to have a grasp on technological nuances without getting lost in the jargon.
Our specialized advisory services are designed precisely for this purpose. We cater to C-level executives and board members, translating complex technological terms, processes, and strategies into understandable, actionable insights. No longer will technological discussions feel like a maze of confusion; we ensure they become strategic enablers.
We pride ourselves on our ability to bridge the gap between tech experts and decision-makers. Our approach isn't about oversimplifying; it's about effective translation. By painting a vivid, comprehensible picture of the technological realm, we enable you to make informed, confident decisions that align with your organization's goals.
With our guidance, you won't just be adapting to the ever-evolving world of tech; you'll be harnessing it, leveraging its potential, and charting a course for success. Dive into discussions about AI, blockchain, cybersecurity, or any tech topic with confidence, backed by understanding. Your leadership will be fortified with tech clarity, ensuring you're not just keeping up but blazing the trail.
Second Opinion & Independent Reviews:
In the world of IT, the stakes are high. Our specialists offer an invaluable second perspective, be it for project appraisals, technology selections, or strategic implementations. With our independent project reviews, gain confidence in your decisions, backed by unbiased, expert analysis.
Comprehensive IT Consultancy:
Beyond advisory, our team delves into the intricacies of day-to-day tech challenges your business faces. Whether it's system integration, software selection, or cyber risk evaluation, our consultants bring a wealth of experience to guide, optimize, and empower.
Confidentiality & Anonymity, Always:
We recognize the sensitive nature of strategic deliberations and technical evaluations. With our unwavering commitment to confidentiality, rest assured that your data, discussions, and decisions are safeguarded. If required, we even provide services with full anonymity, placing your privacy at the forefront.
For every level of your business, from daily operations to boardroom deliberations, our IT consultancy services stand as a beacon of clarity, reliability, and excellence. Partner with us and transform the way you perceive, utilize, and lead in the technological realm.