The safer way of sharing secrets. 
The safer way of sharing sensitive information such as credentials, messages and many other sensitive items internally and externally, using a self-destruct mechanism, with the ability to track the delivery and usage.
Features
Fully Self-Hosted

Fully skinnable (html/css files fully separated from logic)

AES 256+ encryption at rest with bearer access token

SSL TLS 1.2 minimum encryption standard with string cipher suites.

Message instantly destroyed upon retrieval – no further sharing.

Maximum 3 attempts at retrieval when using pin code.

Time limitation, where you can set a start and end time, or pre-set quick-selection.

With time limits, message does not "exist" before the start, and will destroy after end time.

Without time limits, If the message is not retrieved within 30 days, it will self-destruct.

Ability to cancel a message by use of a cancellation link.

Supports desktop and mobile.

API for automated creation and delivery of messages.

Email, SMS and Log entry templating.

Simple JSON configuration file.

Optional use of a pin code for additional security, with a maximum of 3 attempts before destruction

Optional InfoSec emails for events

Optional sender notifications by email or SMS of retrieval attempts, delivery and destruction events.

Optional recipient notification by email of retrieval link

Optional whitelisting to restrict creation of messages, preventing public abuse.

Optional blacklist to restrict access, preventing public abuse.

Optional use and event logging.
A sample screen for creating a secret message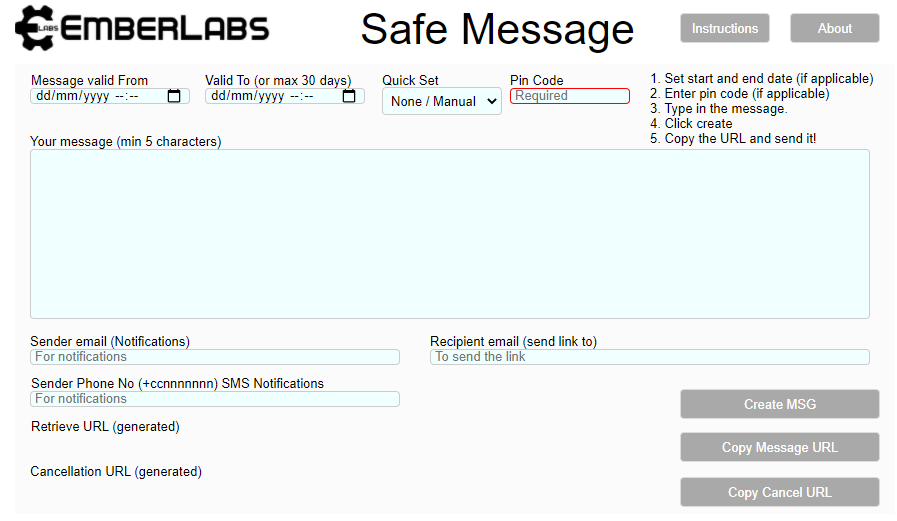 System requirements
Linux (tested on Centos (Redhat))

1 core, 2G Ram

MySQL 5.6+ / MariaDB 10+
System recommendation
Linux Centos Stream 8 / Redhat, or any similar recent generation distribution.

2 core, 2G Ram, disk use is minimal. (<1G for application)

MySQL 5.6+ / MariaDB 10+
Service requirements
SSL certificate for the selected domain




Wildcard certificate accepted..
Optional services
Optional – Sendgrid account with API access.

Optional – SMS.TO account with API access.
Licensing options
One-off license purchase with binary delivery, license locked to specified domain(s).

One-off license purchase with source code, under NDA and non-resale, compete,




distribute, for internal use only agreement.
Support
Bug and Updates support by email/ticket under maintenance support schema




(first year included in license).